About 15 years ago, my daughter asked me if there was something that I wanted to be doing in life that I hadn't done. I told her that I'd always felt like there was an inner artist hiding somewhere deep inside of me. That Christmas she gave me a watercolor painting set, a few years later she gave me an acrylic painting set. They were beautiful and looked lovely . . .sitting in the basement storage.
Fast forward 10 years, my friend told me about a drawing class she had taken in Eden, I told her to let me know the next time there was one and I'd take it with her, so I did. It was a watercolor class at the Huntsville Library, then there was a drawing class in Eden. Pretty soon I dusted off those painting sets. Honestly, I didn't even know that they were two different types of paint. I did a small painting of a fried egg. I started googleing and pinteresting tutorials along with showing up on Wednesday evenings to paint at the Mountian Arts & Music Open Studio where artists and musicians take time for themselves, enjoy each others' company, and create.
There have been several different teachers who have helped guide me through learning watercolor painting. Jennifer Sorensen has helped me to learn that it's just a piece of paper and watercolor painting is not the same as photography. I had to learn to let go of the crisp lines of photography and let the lines soften. Lori Thomas has taught me to "paint upside down" it gives everything a whole new perspective.
I am learning to stop agonizing over every brush stroke and have fallen in love with painting. Through the support of our Wednesday night group and the amazing support of my family, I have created paintings that I truly love. Email me at sanchezes@msn.com.
ARE WE THERE YET?
watercolor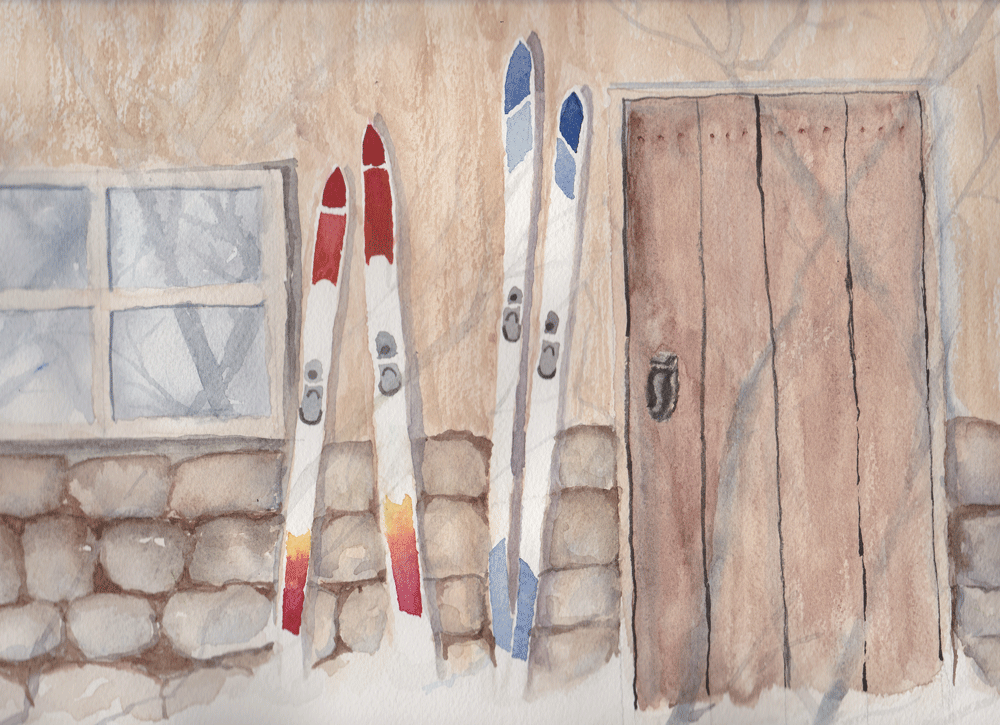 SINGING IN THE RAIN
watercolor