My mother was an artist, but none of my siblings or I were ever interested in pursuing any of that. We were busy with outdoors sports etc. When the Jenifer Sorensen, the art teacher at Snowcrest Middle School in Ogden Valley retired, she set up a studio and started giving art classes to adults. Monday became my art night – nothing overrides art night! Learning art has brought whole new ways of looking at the world to my left brain science-trained mind! My goal is to explore as many different mediums and techniques as possible, and focus on developing skills in a couple of them. My favorite mediums have been prisma colored pencils, pen/ink, pencil drawing and most recently pastels and tinted charcoal. My influence has been the dogs in my life (who have served as wonderful subjects), and the beauty of the natural world that surrounds me where I live in Ogden Valley. I 'do art' because it clears my mind, constantly amazes me, fills me with joy and makes me smile as I appreciate the opportunity to explore this part of my creative self. Doing art also gives me great respect for the master artists, and for those who make a living doing art. Check out my music page at www.ravenspiritmusic.com.
Contact me by email at trish.painter@gmail.com for prints or commissions
DANCING IN THE NIGHT 6"x8"
Pan Pastels and Charcoal
TAHOE TREE 8"x11"
White Charcoal
MYSTERY SHIP 6"x12"
Watercolor Wash and Pastel Pencil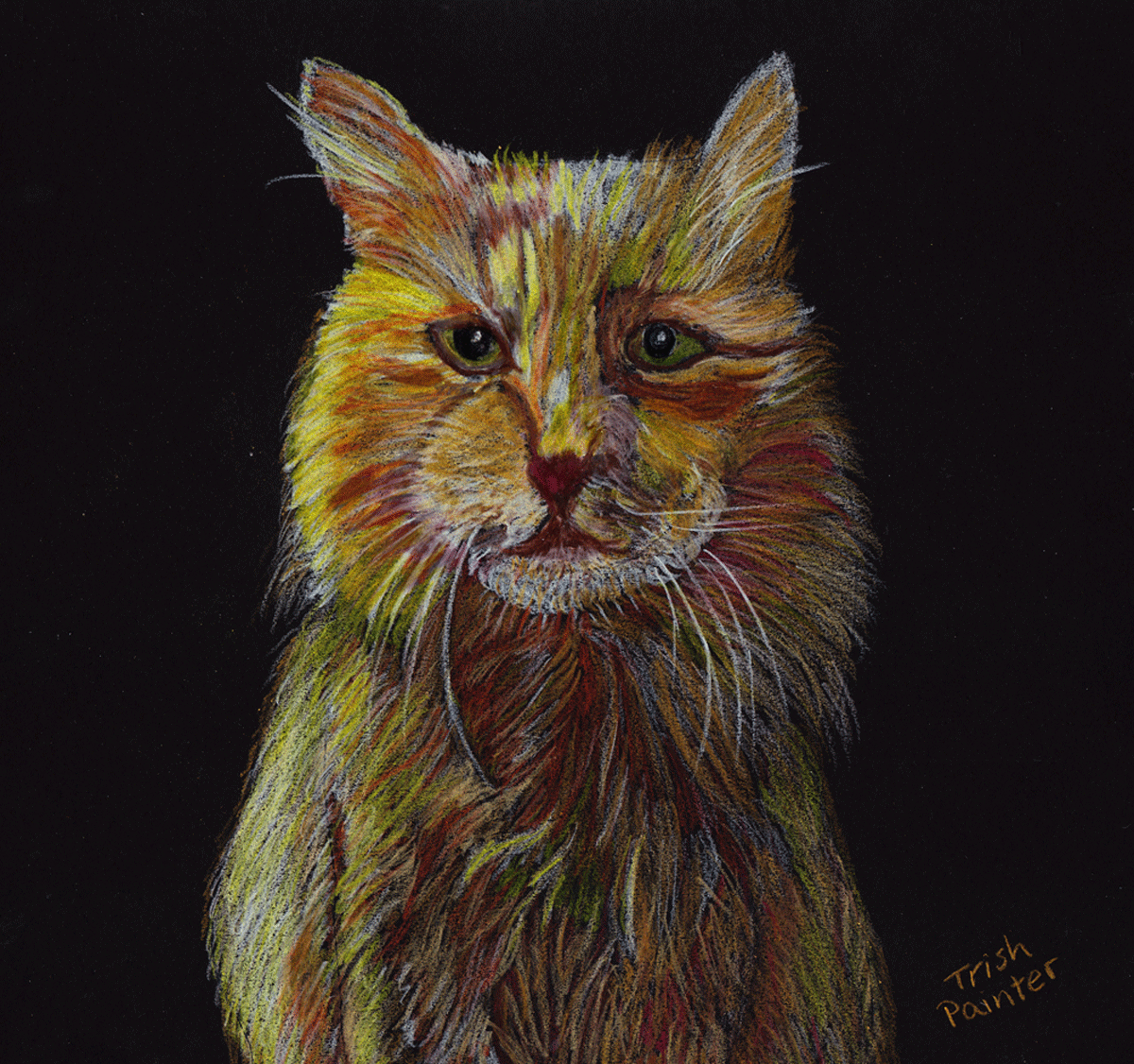 HARRY 10"x12"
Prisma Colored Pencil
CEDAR SNOUT 10"x12"
Pastel Pencils
SYD's FEET 10"x12"
Prisma Colored Pencil
DRAGON FLY BLUE 8"x8""
White Gel Pen and Prisma Colored Pencil
​
TUPAC ALPACA 10"x12"
prisma colored pencil
SECRET SPIRIT 10x12"
White Gel Pen
TWO SPIRITS 10"x10"
Watercolor wash and pastel pencils
MORNING MOON 12"x18"
watercolor and pen
WINTER TEEZLE 6"x8"
white gel pen
MONTE 10"x12"
Prisma Colored Pencils
PAGE FEET 8"x10"
Prisma Colored Pencils
SPIRIT SNOUT 10"x10"
White Charcoal
PATTERNS IN ICE 8"x10"
Watercolor, Black Ink and White Gel Pen
JAKE, the MEXICAN STREET DOG 10"x10"
Water Soluble Graphite
RAVEN's LIGHT 8"x11"
White Gel Pen and Acrylic
B&W AURORA 10"x12"
White Charcoal
WINTER CAMPING 10"x12"
Pastel Pencil
COSY GUITAR 9"x12"
Pan Pastel - white charcoal
SPIDER WEB 10"x10"
Water Color Wash with White Gel Pen
PROFESSOR 9"x12"
Prismacolor pencils
WILDFIRE 2 8.5"x11""
PanPastel-charcoal
PLAYING IN THE WAVES 8.5"x11""
PanPastel
WILDFIRE 1 8.5"x11""
PanPastel-charcoal
SUNSET WEEDS 8.5"x11""
PanPastels
JAKE 11"x18"
PanPastels/ Charcoal
HOWLING AT THE MOON 11 "x 18"
PanPastels/Charcoal
GOOFY SPIRIT 11"x18"
Water Color
BEACH CAMPFIRE 12"x12"
Pan Pastels on fuzzy pastel paper
MORNING WALK 11"x18"
charcoal
MORE PLEASE 7"x8"
white gel pen and tinted charcoal
POWDER and PEPPER 8"x10 "
Pastels
"PUNK" VIOLET 8"x10 "
Pastels